In loving memory

DAZZLEBY DAREDEVIL
25/08/07-20/3/2009
Ir ch Dazzleby Daydream x Duke of Beauforts Milton
Bred by Mrs R Griffiths
at 11mths old

at 1year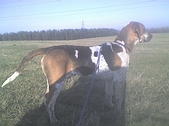 11/2/08
BECAUSE I BELIEVE ANYTHING IS POSSIBLE, MYSELF AND DARE ARE WORKING ON OUR OBEDIENCE, HOPEFULLY FOLLOW IN MY PENNY'S PAW PRINTS.

WE HAVE ALREADY MASTERED OUR PUPPY FOUNDATION COURSE.

NOW WORKING ON OUR BRONZE GOOD CITIZENSHIP.
ALSO WE ARE LEARNED OUR AGILITY COMMANDS.
DAREDEVIL ENJOYED THE DOG WALK AND TUNNELS
ALSO WE STARTED OUR TRACKING/NOSE WORK AND PROVED TO WORK HARD ON UNDERSTANDING WHAT I'M ASKING OF HIM.
AT NEARLY 6MTHS OLD.
WE HAVE STARTED COMPLETIVE OBEDIENCE.
DAREDEVIL AND I ARE ENTERED IN A OBEDIENCE COMPETITION IN MARCH 08,
IN PRE BEGINNERS. HE WAS THE ONLY HOUND ENTERED AND WAS UP AGAINST LOTS OF BORDER COLLIES, A FEW HUSKIES, AND GSDs.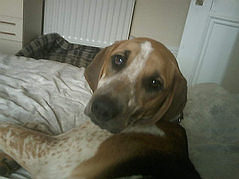 Daredevil is came on really well with his tracking.
We trained day every Sunday as long as I was not at work,
Today he hunted a un-none scent Sharon, Beau's owner. and stayed on the scent even tho the wind was strong and carrying the scent a good distance. here are his photos.
aged 6mths working hard in very windy weather to find his line walker.
Today 3/3/08 Daredevil sat his Kennel Club good citizens bronze test and passed 1st time. Good boy!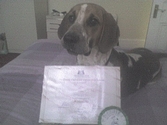 30-3-08
Today Daredevil and I entered a limited obedience show
for the North East Border Collie Club. We were entered in Pre Beginners open dog or bitch.
There were 12 entered in our class,
and we came 8th. I'm over the moon with dare, he was the youngest dog there, let alone the only hound breed. We had so much interest from people watching us work.
So Well Done Dare.
CLASS: Pre-Beginners NO. ENTRIES: 12 NO.
Thanks to
JUDGE: Mrs Angie Birkett, Bridge Cottage, Bedlington, NE22 5RY

STEWARD: Liz Lydiatt
8th Miss J K Wallace with DAZZLEBY DAREDevil Foxhound dog 25.8.07 losing 50.5.
At times showed brilliance but couldn't keep his nose off the ground! An excellent handler doing well with this young Foxhound. Lovely to see this unusual breed, I hope you both continue to compete.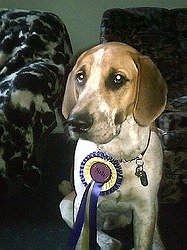 6/4/08
Today we have our first open show in Birtley, Gateshead way, fingers crossed we do ok.
Well we went to the open show stand around in the snow, for around a hour, went in the ring with the other puppies for AVNSC. And came out with third out of five, so not too bad at all for his first show,
(with out attending ring craft),
Yet again we pulled a crowd, and few people wanting to take pictures. I hope this fame doesn't start going to Dare's head too much.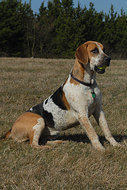 We have another open show on Saturday, in Durham, with classes so we'll see how we get on,
also we have been working on our tracking and obedience a lot lately, with three obedience shows in the next month and with a tracking training weekend planned in Scotland in a few weeks, we are looking forward to the next busy few weeks
tyne wear and tees hound
Daredevil and I was there for a early start,
Dare was entered in open dog as only foxhound class, winning his first bob, and best puppy he held his own in the ring and went well but yet again for this breed the judge didn't short list him, I wasn't really bothered he went well and is looking in good condition,
7th June we was entered in Pre beginners at St Marys open show, it was hot and out side,
Daredevil worked well considering the distractions out side the ring we achevied our stays and good recall but temptation of food for this hound was to much and we lost marks in lead free heel work due to him wanting to play with the bottle the wind carried,
Dare is the youngest one to enter on the day. (before people think why enter him, I want the practice with him in ring conditions) my hound has many years to perfect the art keeping to fun and enjoyable for for both so we don't become sick.
thanks to the judge and the steward.
Saturday gone Daredevil sat his KCGCDS Silver and past with flying colours, We are very happy to be showing off his skills. we have also been training hard in scent work of which we now do 2/3mile 20min cold daredevils tail never stops while he works he is also now hunting off line after proven to me and others he is fine with livestock.
Next step is one mile half hour cold and also working on his KCGCDS Gold.


Saturday 15th November Dare and I were entered in Humberside hound open show foxhound class and av hound. the foxhound class was judged by Miss Joan Corner, and Av hound was by Miss Jenny Startup.
We got 1st in junior and res best of breed in breed class, bob went to Mascot. and in Av hound junior we got 1st out of 6. not bad for a hound thats lightly shown.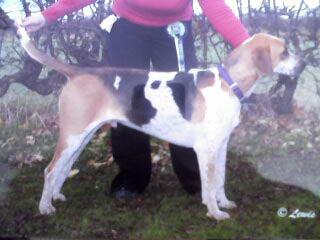 PHOTOS FROM A FRIEND OF DARE AT CRUFTS 2009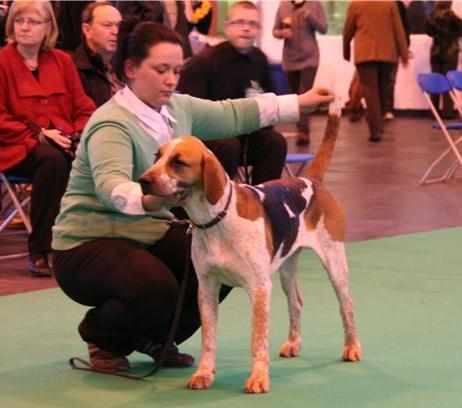 Daredevils life was short but full of fun, happy things which kept us both busy.
A year on and he's still greatly missed but never forgotton,