Dawson was my trick hound he could do everythig i though about teaching him
from heelwork, to turning on the hoover, he was a mummys boy through and through,
he was used as a blooddoner over the years being a life saver of 9 different dogs that needed fresh blood, he would show for me, do agilty, obedinece and just cuddle his family, he was a hound who wasnt keen on strangers, we loved him just the way he was,
He is sadly missed by us and all his friends at events and the house is certainly not the same without him,
Dazzleby Dawson son of North Staffs Baron'07 and Dazzleby Dawdle
We are very proud of having another Dazzleby Foxhound in our home.
2011 We will be entering our first championship show, so the family of hounds and owners can have a laugh and fun time together,
We have started basic obedence and clicker training, with extream love for life he is taking everything in his laid back way.
He to is let off lead twice a day in the woods and to has a good recall, with only one small friendly problem he loves to meet everyone he comes across, with big waggy tail and a singsong, he's great friends with two english bull terriers.
Dawson will be lightly shown and
hopefully will follow in his cousins Daredevils paw
p
rints competing in the

Obedience

ring too.
With many thanks to Dawsons Family for this second chance.
and to Rosemary Griffiths, Breeder.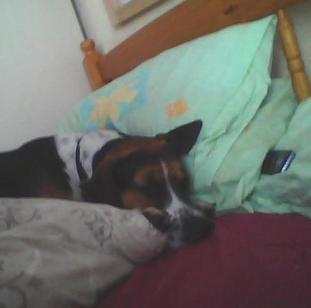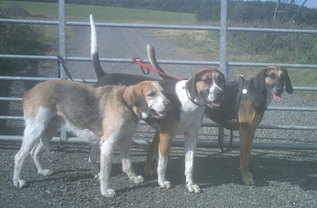 On the 19th of oct dawson sat and passed his Kennel Club good Citzen bronze award first time, we are very pleased with him hopefully will be ready for his silver test in a few weeks at our dog club.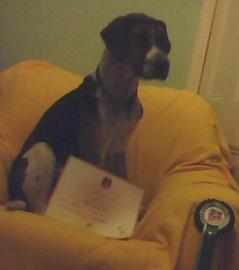 Dawson had turned into a stunner even tho I do say so my self. He has joined my other foxhounds as a blooddoner at work, and is proven to be a good boy while this is collected.
It just shows the nature of these animals are unbeaten.
Dawson is ready and is just waiting to be enterened for his kc silver test.
We are also waiting for summer agility to compete in.


With 2010 now in February we have started training everyday for obedience and agility, we have entered a few local agility shows, to see what it's like at competition level. We are now fine tuning for obedience, retrieve and finishing is the main aim in our training at the minute with work focusing
on straightening everything up.
May 2010- we have had are first few shows in the last few weeks, we entered obedince show and Av terrier or hound on the hottest weekend of the year so far on the 23rd, obedince was good but by the time the stays came round Dawson was too hot and bothered, as so was I.
In his show class, judge= ms s wright, we won 1st place out of 8 dogs, i got told he moved well and stacked wonderfully. i was please with Dawson as this was he's first ever show at just under 2 years old and it was a busy show at that.

@ tyne wear and tees hound it was less busy but still got loads of attention. Dawson and I was rushed in to the ring, which ment we both hadnt settled, but he stood well and let the judge go over him with little distraction. movement i felt was good with plenty of drive in the back end. we won are class.
For group I felt Dawson had time to settle and showed his socks off, he moved for better that he had done in the breed classes, but the judge never short listed any of the breeds he had judged earlier in the day, but Dawsons behaviour has spot on. so I was happy.
Dawson has been sign to a modelling company, who deal with animals, adverts, tv, billboards ect,
Dawson list of "tricks" he does is getting longer by the day, he is learning so quick and enjoys everymin of it. i love to show people what the breed can acheive when time is spent training, loving and understanding them.
at the age of three dawson has grown into a fab looking dog hound with great nature an ability to learn and willingness to please, Rosemary and i are very proud of him .
2012
Dazzleby Dawson and i will be at Crufts this year(2012)
Come and see us, we have not been asked to do the breed booth, information about Foxhound Welfare UK and the breed will be available at our benches,
Dazzleby Dawson won Res Dog at crufts this year, beaton by his cousin,
Hound show he was second in class. and was short listed in the good citzen Class,
Next out at Our local show Darlington,
Dawson Wins his class only to be beaten for the challange he was lovely to handle and was a happy and social boy,
This year was the first time we were invited by the Kennel Club to host a breed rescue stand, we were well supported and raised £79 for the welfare, Foxhound Welfare Uk is looking for much needed funds to help one unwated now ten month old female puppy who is sadly losing her site,