Past Foxhounds
They have greaced us with their lives over the years these hounds
photos are true and have not been tammered with.






Harriet female foxhound. came from local shelter and only stayed a few mths before passing away





Maurice family signed him over to welfare after only having him a year from a shelter and than decided they could cope with him as they wanted children, maurice was my master of opening doors and closing them. He lead a happy life with us till he started to fade very quickly, xrays showed he had cancer of the chest.
Daisys' story

Joining the clan from july 09 is Crazy miss Daisy, she was a older bitch aged around 13years, who is part welsh and is a very sweet girl, who came to live us here due to the fact her family circumstances changed and felt it was best for her to come and live with us here,
she was fab with people, children other do
gs and even cats.

great off lead she has
proven you can let a old hound off and she would't run off, her recall is as good as my Border collies. her family stay in touch and she was a very happy old girl who enjoyed every minute of her retirement,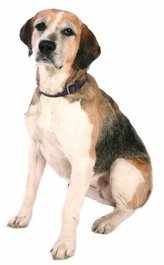 on the 26th november daisy past away she will be sadly missed by all that met her, her life with us was short but full of fun and delight she was a wonderful mothering bitch that made friends easyily. sweet dreams old girl xxx