(with dumfriesshire blood

)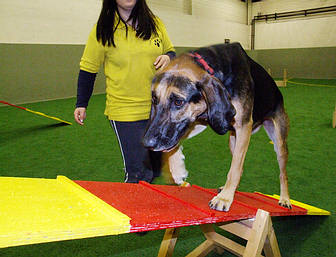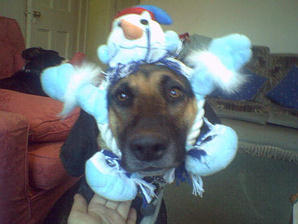 Penny was and is my 1st hound, I have always had dogs and been involved somewhere along the line with the welfare of dogs. After meeting many of the local hunt hounds and loving there nature I started to look into this breed as a pet, I've always done things with my dog which have included any Border collies, a Gsd, looking after friends and families dog from a Staffie to a Bloodhound.
After becoming a friend of Rosemary's, of the Dazzleby Foxhounds, she contacted me about a 10mth old bitch hound, that had been placed in the wrong home, from puppy hood, she had an accident which lead to her tail needing to be taken off. We drove down to where they lived, well half way. her tail was in sorry state bless her, she was coming in to a household where there was two active collies, Maddie and Fluke, she wasn't fully house trained, chewed things guarded her food and the most common problem of them all she wouldn't return when called of. I give her around two weeks to settle in, with regular exercise with all the dogs I knew to wear her out, I put her on to a low protein diet of James Wellbeloved, slowly she became better of lead and more responsive.
Training classes I believe are a must for any dog and handler team. Penny started well passing her Kennel club good citizens bronze, no problem with a minute stay done in a stand. silver was a little harder at the time due to her very independent streak. but we passed it second time around, or was is the third time, I'm not to sure. At the same time as learning obedience, we also started training to hunt the clean boot, that's hunting a human line walker, for those who think it's hunting animals..
We also take part in agility and sometimes if the mood is right, we do flyball.
With Foxhounds being of sound nature if socialised right, Penny makes a wonderful visit hound, she attends out of school clubs and school visits, we have also done a half day at Discover dogs at Crufts this year,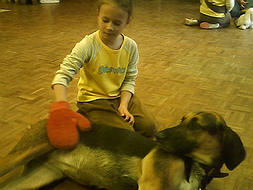 Penny at Brownies
Penny's nature is sound, and laid back that at the dog club where I work the head trainers use penny as a stooge dog as she does not react to aggressive dogs and is never pushy for nerves dog.
Penny still sometimes doesn't come back every time when called, and does speak at the window cleaner, But hey, she is only a dog. not a chocolate little soldier, like people seem to think dogs should be.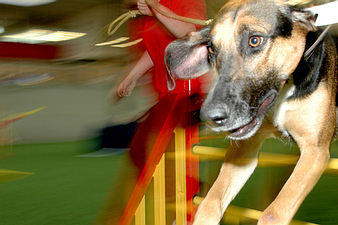 P

enny and I are still working on our agility, and working towards her GCDS gold, she enjoys meeting up with friends dogs and hounds, Penny's recall has improved greatly with time and training and never given in being constant and calm helps, Any dog will not come back if they think they are going to get wrong, and when penny does decide that I'm boring and she doesn't want to stay with me on a walk. I play dead, I know but what do you do when it works. Lying on the ground not moving when you are in site, and somethimes putting on false tears works,
Penny has passed her gold on Monday the 1/12/08. at dog club
well done to everyone else who sat the test everyone passed.

Penny now at the age of 7 has started to slow her nature is still great she still loves life, but now takes it a little slower, well thats what i tell my self as she still loves her runs off lead at the beach, play fighting with the other hounds, and teaching the rescues we have in our care all the bad houndy habits they need to know or thats what she thinks,